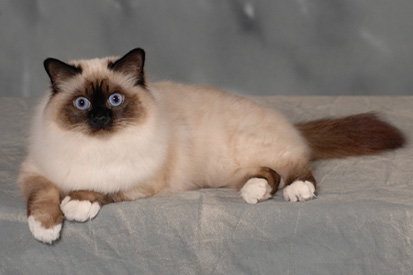 Seal Point, Female, Born 01/06/2008

B: Gregory Beach-Robert Alexander
O: Gregory Beach-Margaret Garner
We placed this cute girl with a family member, Margaret. She plans to show her for awhile and then breed her. We are pleased to have been able to have helped Margaret get her start with Birmans, and are looking forward to seeing some babies from Felisha!
---
GP Pleasantview Ubu of Catabella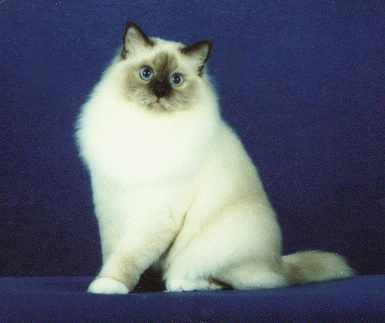 Blue Point, Neuter
Ubu is a huge boy, who does not know it. He is the resident Birman teddy bear at Mary's, and allows himself to be bossed around by her girls. Two things that Ubu likes to do are eat and play, and he can play with such force that he knocks the toy right out of your hand. The only thing Ubu likes more than these two activities is attention from Mary. If you ever can't find him, and he is pretty big to miss, all you have to do is call another cat and he appears right out of thin air!
B: Julie Collin
O: Mary Richards
---
GC, GP, RW Bir-Mac Xia Maria of Khetmeo
Seal Point, Spay, Born 01/10/2000
Xia is a retired breeding and show cat. In my opinion she is one of the prettiest Birmans I have ever seen, but I am partial. In addition to being beautiful she is truly sweet! Xia is our resident princess, but only because we spoil her, and not because she acts like it. Xia always loves be in your lap, sleeping or purring while you watch T.V., and if given the opportunity she loves to lick you hair! One of the nicest things about Xia is she never does anything wrong. All you have to do is ask her one time not to do something and she never does it again; but here's the best part: she won't allow anyone else in the house to break the rule either! Our Xia is not only a great companion, she is the glue that makes everything come together with all the other cats and kittens. We treasure her, and would be lost without her beauty and affection.
AWARDS:
C.F.A.'s National Best Birman in Premiership, 2004-05
Great Lakes Region's 7th Best Cat in Premiership, 2004-05
National Birman Fanciers 2nd Best Cat in Premiership, 2004-05
Exhibitor's Choice Best Birman in Premiership, Sacred Cat of Burma Fanciers, 2004-05
Best Champion, National Birman Fanciers, 2000/01
Best Birman Kitten, Sacred Cat of Burma Fanciers, 2000/01
B: Tom & Karen McIlrath
O: Gregory Beach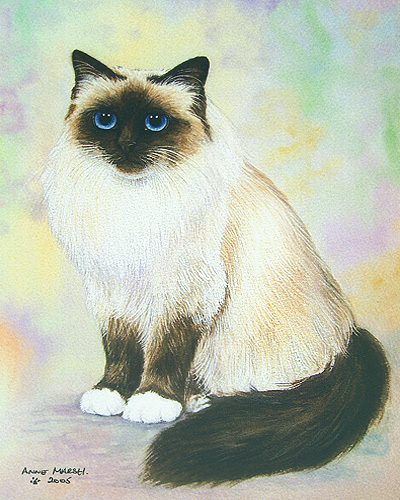 Above is a watercolor portrait of Xia done by Anne Marsh